Trip Context
Last time I was on a flight was in March 2020, uncomfortably close to the initial COVID-19 shutdowns in my city. A work-related team-building trip to a Cabo San Lucas resort surrounded by other guests shouting "SPRING BREAK" as they drank more alcohol than many of them could handle. For the last two years or so since then, I haven't travelled. As restrictions eased and people were encouraged to determine their own risk tolerance levels, I decided that taking a trip in mid-October was something I wanted to do again.
Air Travel
When booking flights, I've started to steer toward business class or "premium economy" where I can because I enjoy feeling like a human being when I travel. The tickets can be substantially more expensive, but I travel so infrequently that I usually don't mind it. Most of the time, my flights aren't direct, so I'll have a couple of shorter flights, and airlines often offer different levels of service based on the length of the flight. In this case, I was offered hot food on my flights for the first time.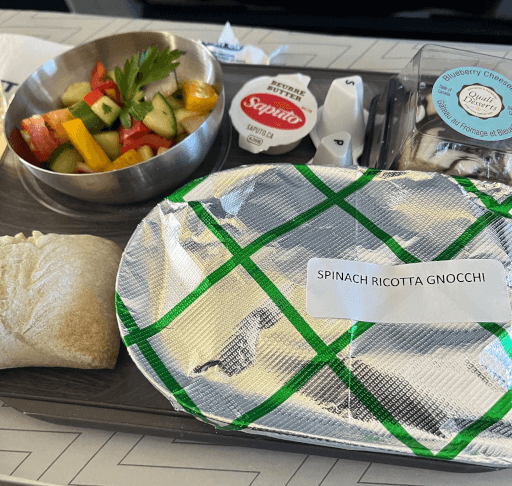 The options for the entree on the flight to Vancouver were Beef Stew or Spinach Ricotta Gnocchi. Both seemed a bit like canned food to me, so I wasn't blown away, but hot food is hot food. I chose the gnocchi and also received sides like a roll, a small salad, and a little square of cheesecake. It all tasted good (although I needed all of the provided salt and pepper, presumably due to the fact that things taste different when on a plane), and the ceremony of ordering and having the meals delivered filled quite a bit of time during the flight which meant that I didn't need to make much use of the books, TV shows, or movies that I brought along. Maybe most people would be over the experience if they frequently eat on planes, but the whole thing was novel to me compared to the usual pretzels or cookies. I'm going to steal the salad recipe.
SkyTrain is Good, Actually
Getting to the hotel was actually very simple from the airport. I intentionally picked a hotel that would be easy to reach via the SkyTrain. Instead of paying a bunch for a taxi or Uber to the hotel, I was able to get on the train at the airport and ride all the way to Waterfront Station which was within a block of my hotel. I paid around $7 per direction for SkyTrain fare after having purchased the card in advance and having it mailed to me at home. There were also machines available at the stations to purchase cards or reload passes/stored value.
The train is automated and as long as you know where you're going, it's very easy to get on and off. There's quite a bit of space so I didn't feel that it was that crowded, at least when I was riding.
The Hotel
I stayed at a hotel next to Waterfront Station that had a fantastic view of Vancouver Harbour, Stanley Park, and the mountains north of Vancouver from my hotel room window. I really enjoyed the views of the water where I was able to watch sea planes take off and land throughout the day. If you like being right on the water, I think it's a great location.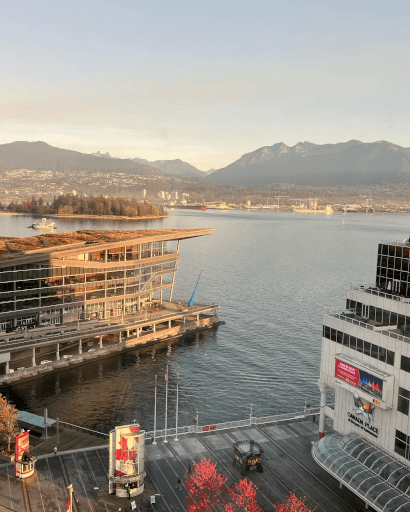 I had some gripes about the hotel room like the overpriced minibar (and the fake wine replacement charge that I had to have removed from my bill). The bathroom, like many hotel bathrooms, felt like it was was designed for shorter people (the shower head was something like 6'2" off the floor and that doesn't leave a lot of room for me). It worked, but felt claustrophobic, which was odd because the rest of the room had plenty of space. But in general, it was in an excellent location that made walking around downtown a very easy prospect and was also close enough to Stanley Park that I was able to fit in a (lengthy) walk there, as well.
Food Highlights
For this trip, I wanted to make sure I made time for visiting some interesting restaurants. Fortunately, every place that I chose to go had good food. In case anyone is looking for recommendations in the future, these are some of the places I enjoyed.
ARC Restaurant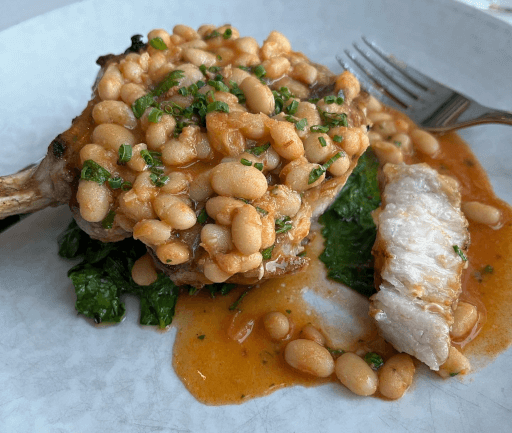 I had a pork chop with a spicy cassoulet on top and some garlic rapini, Lonetree Apple & Pear Cider, and carrot chai cheesecake. Pretty delicious, although the garlic was a little much for me (it was browned, but that's not a flavour I'm used to and it was pretty intense). I'd love to get more of the cider, but unfortunately it's not available at home yet.
Rogue Kitchen & Wetbar (Gastown)
This doesn't sound like the most original thing, but I absolutely demolished their crispy chicken sandwich and fries. The chicken was topped with coleslaw, tomato, pickles, and aioli. The fries were super fresh and delicious (hot, crispy outside, soft inside).
This location is actually inside the SkyTrain station, so it's very easy to access. It might not be the most "glamourous" location, but it's a sports bar…
I added a random IPA from the menu and had a very nice lunch.
Chambar Restaurant
I wanted to try brunch here but I couldn't because its only available on weekends. The photos I saw online looked great and I went for dinner instead.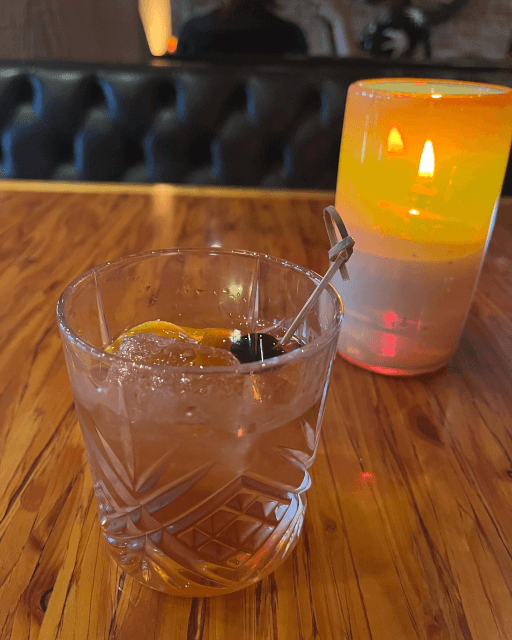 I had an incredible Old Fashioned made with some fall flavours (sorry, I didn't jot down all of the ingredients), one giant ice cube, citrus rind, and a delicious cherry. Just a 10/10 cocktail.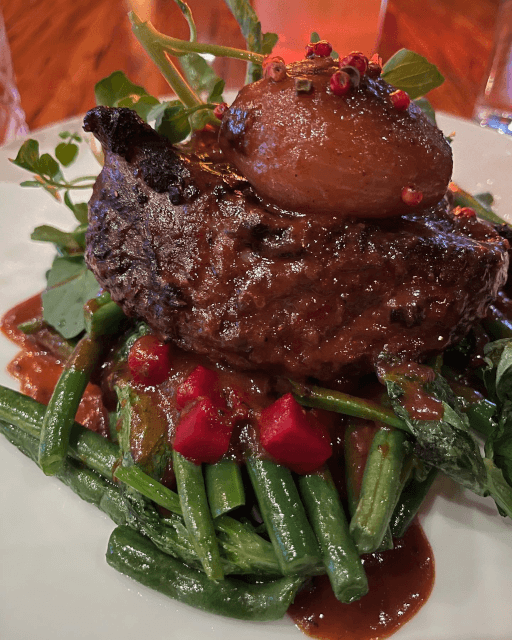 A special consisting of a huge steak (I think eye of round, but I don't really know beef cuts) with peppercorn sauce and a braised shallot on top of a huge bed of green beans, diced beets, and pea tips (greenery from a pea plant). A lot of food. Like too much. But delicious. I might have preferred to have the beans cooked a little longer, but I'm also not a chef.
For dessert, a pumpkin variation of their beignets (little square doughnut segments) with a delicious caramel-y sauce and a scoop of ice cream. A wonderful, warm combination.
As for the overall feel of the restaurant, I liked the ambience and the service came across as genuinely friendly. I went early which I was happy with – it started getting busy closer to 7:00 PM and the area I was seated felt like one big room. This gave it a nice communal/family meal feel, but it did get louder as the night went on and more people filled the restaurant around me.
Deville Coffee (Waterfront)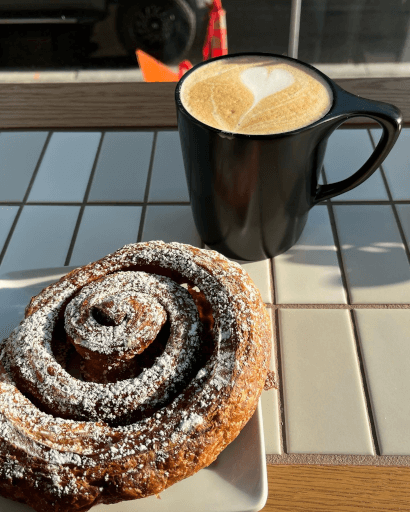 The architecture and graphic design might make this place look like a Helvetica-hipster coffee shop with a menu board with too much negative space and tiny lettering, but I had a great latte and pastry here and it would be a nice spot to chat with a friend over a coffee.
Things I Missed Or Want To Do Next Time
Visit more museums like the Museum of Anthropology at UBC or the Vancouver Aquarium
Check out Granville Island or North Vancouver
Try some local seafood (a big miss for this trip, unfortunately)
Try out a co-working space or see what Sonder is like
Ferry Trip
Helicopter Trip (?!)
Travel with friends!